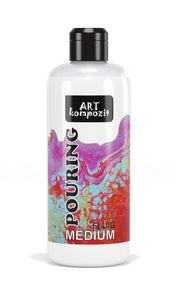 POURING MEDIUM Kompozit liquid acrylic for the FLUID ART TECHNIQUE. The liquid medium is used to create paintings in the FLUID ART technique. When mixed with acrylics, it creates the effect of marble, coral twigs and cobwebs. This is an abstraction technique where each movement creates amazing patterns, colorful spots, elegant lines and intricate shapes on the canvas.
Benefits:
Various effects will appear when drying: large and small drops of marble will create an incredible natural world, coral sticks, and spider webs.
All that will unexpectedly and unpredictably appear on your masterpiece thanks to MEDIUM Kompozit.
The effects resemble planets scattered across the universe, invoking cosmic emotions.
Incredible sensations, breath-taking, liquid colors unfold, and amazing patterns appear.
Intended use:
MEDIUM Kompozit makes the paint thinner, so that the consistency becomes more fluid without compromising the shine and the color. To prepare the fill, mix acrylic paint with the medium with 1:1 ratio. However, you can experiment with proportions to achieve different effects. Durable acrylic elastic film provides a great last touch feeling.